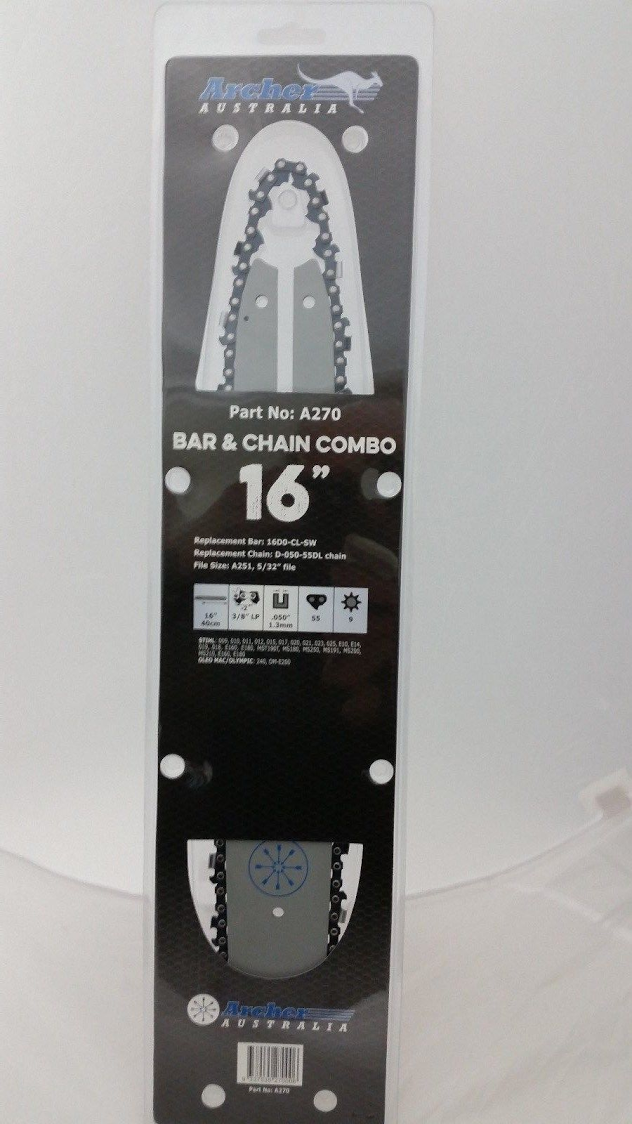 A270-0 Archer 16" Bar Chain Combo 3/8LP x .050 x 55DL: replaces Stihl 025 MS250 160SPEA074 160SDEA074
Regular price $20.71 Sale
SKU: A270-0
Desc: This is an Archer branded Guide bar and Chain that works on Stihl. This combo kit mounts on Stihl models 009, 010, 015, 019, 020, 023, 025, MS180, MS190T. MS192, MS210, MS230,  plus many more.
Also works on  Efco (Olympyk) models 234,  240, 241, 244, 935, 935D, OLE200
This combo kit consists of:
(1) 16" laminated guide bar
(1) matching Semi-Chisel saw chain 3/8LP, .050 gauge and 55 drive links.
Please look at the photo for a listing of all the brands and models this combo kit will fit.
This guide bar is 3/8LP, .050 gauge and uses a 55 drive link chain 
PLEASE VERIFY YOUR PITCH, GAUGE AND DRIVELINK COUNT BEFORE ORDERING TO BE SURE YOU GET THE RIGHT BAR! 
TOTAL PART # T221ML3-2WC